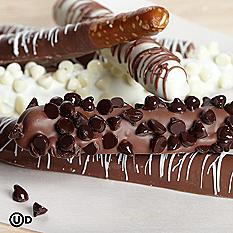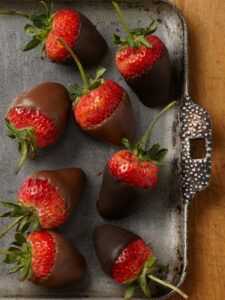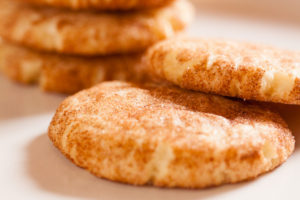 CALL US AT 515-276-4600
for your Custom Order!!!
Made To Order – Some Same Day Delivery Available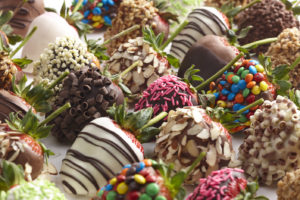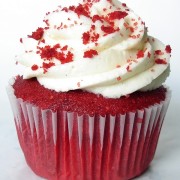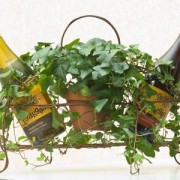 Spa Gift Baskets, Chocolate Covered Strawberries, Mini Bundt Cakes, Cookies, Wine Gifts and More………..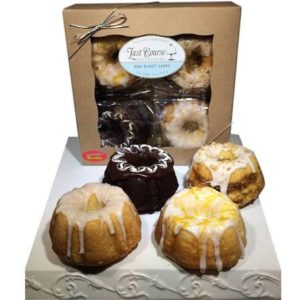 Appeal to their sweet side with this decadent gift. This is our favorite chocolate gift and is overflowing with variety. From hand dipped orange slices, strawberries, cherries, and lemon pistachio bark to chocolate bacon toffee bites. Number of pieces depends on size of product and varies.
Homemade Gourmet gooey good fresh made to order cookies!!
his collection is a little bit of heaven. Molasses, Snickerdoodle, Oatmeal Raisin, Peanut Butter, Orange Slice and Chocolate Chip
in packages of three ($7.95 or boxes of a dozen ($29.95).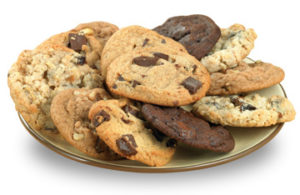 GIVE FRESHLY
BAKED COOKIES
Share a homestyle cookie gift of delicious goodies made using only the finest ingredients.
Whether you're sending a cookie basket or box, any cookie delivery is a delightful surprise!
Our gourmet cookies are very soft & rich, with the sweet cream buttery taste that we are known for. Get your milk ready and enjoy a real gourmet cookie made the old fashioned way. Treat yourself today, or send a homemade cookie gift to some one special and we also send to any U.S. or overseas Military APO FPO DPO address. Our soldiers can't get enough of them.
Wine Baskets are also available but Call to Order as we need specific information for delivery. 515-276-4600
Custom Orders – Made To Order – Not Available Online
Call Us Today for Your Order 515-276-4600
Look forward to hearing from you!!!
Orders For Cupcakes, Individual Cakes, Cream Cheese Cakes, Cookies and Chocolate Covered Strawberries must be received no later than 2 days ahead of time.
Des Moines Cupcakes and Chocolates are great to add a little sweetness to lives of loved ones or to remind someone that the best things in life are simple.
The Cupcake and Chocolate orders will delight both the eyes and the soul.
They are made with the finest ingredients that will melt in your mouth. Des Moines Cupcakes and Chocolates are perfect for any occasion and compliments any floral order.
Please call 515-276-4600 to order this delicious treat!
The Wild Orchid offers Specialty Designed Cupcakes, Gourmet Cupcakes, Boxes of Chocolate Morsels, Strawberry Covered Chocolates and even Floral Cupcakes, each bundle of sweetness will be made to order.
Minimum order of $19.95 for 6 Chocolate Covered Strawberries, 6 Cupcakes or a Small Box of Chocolate Morsels additional strawberries depend on the size ratio to our standard container and a dozen is $39.95.
Some Orders Can Be The Same Day in Des Moines Iowa but Specialty Designs Require 24 Hours Advance Notice.
Celebrate with a Cupcake Tower.
Our three-tiered cupcake stand makes for a beautiful display and an instant party, perfect for birthdays, showers and small weddings.
Dress it up with flowers or keep it simple and let the cupcakes shine.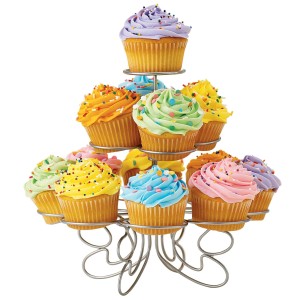 An advance notice of 24 hours for some selections is required.
Also have Cupcake Bubble/Fizzy Bath Treats for great gift ideas
Business gifts can be a powerful marketing tool for a company. Their impact on a company's sales is felt long after the gift is received. The perfect business gift given in the ideal way can:
Strengthen a company's relationship with their clients
Thank a customer for their loyalty
Reward employees to boost productivity
Recognize employee and client life cycle events such as birthdays and Anniversaries

At The Wild Orchid Chocolate we have delectable chocolates for every business/corporate need. Our gifts are a great way to say thank you, get well, happy birthday, or congratulations to valued customers and conscientious employees. Whatever your message we can convey it with elegance and sincerity. From gift baskets to themed events from our existing chocolate molds or custom chocolate logo bars, 3 Sisters Chocolate can develop a decadent solution for all your gift-giving requirements.