Wedding and Event Flowers
Make the right choice in choosing your flowers
for your beautiful wedding.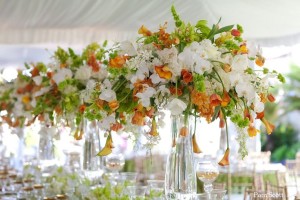 When you take the time to think about it, your wedding flowers will be one of the most photographed aspects of your wedding in; besides the beautiful bride and groom of course, so it is very important to pick with care all of the flowers for the romantic evening. We feel it is very important to pick the right bouquets, centerpieces, corsages,   boutonnieres, rose petals, flower arrangements, bridal bouquets, flower girl petal bouquets, pin corsages, toss bouquets, maid of honor bouquets, and bridesmaid's bouquets because these are the items that really set the mood for the guests and truly define your style.
Where and how do you start the process of finding flowers?   You two first have to decide which style and flower petals match your color palette and overall theme, whether it's roses, daises, carnations, dahlias, or etc. There are so many different factors that go into the choice of flower petals from season to color to cost but make this choice together as a couple.
If you want a spectacular and grand wedding that will be remembered for a lifetime, trust in Wild Orchid to make it happen. We have several styles of bridal bouquets that can be created for the biggest day of your bride's life. We have so many styles, colors, and sizes of  bridal bouquets to choose from but the common element is the love the bride puts into the flower bouquet.
Our collection of flower arrangements combines and marries timeless sophistication and elegance for the bride and groom whom want astonishing beauty and personalized attention to detail. Flowers are very important and we also have many ideas centerpieces. We never forget to discuss flower girl baskets for those cute and adorable flower girls to make the brides walk down the aisle that much sweeter.
A reception table is nothing really without its centerpiece. When dealing with a large venue space for a reception, centerpieces add drama, but in a smaller  reception area the centerpieces add personality. We carry a wide variety of beautiful and easy centerpiece ideas for your reception. Surround your lovely guests at your wedding with a wonderland of beautiful fresh flowers add something special to the romantic and loving evening. Whether you want casual or formal floral centerpieces our florists can create something magical for the big night.
To wrap things up in regards to the planning of steps to the perfect wedding flowers consider these 9 steps. First there is deciding on the right  florist. Second there is taking into consideration your flower budget. Third and maybe the most important part is determining and establishing a  flower vision. Fourth is taking into consideration your  reception venue specifics. Fifth is creating a color concept for the overall wedding. Sixth is to consider your dress and how it would relate to your flower choices. Seventh is to map out your wedding style, the overall vibe you want to portray your wedding to be. Eighth is to understand and consider the size of your crowd and guests during your wedding. Ninth is to write everything down and sketch things out, as when its on paper its on the grounds to becoming a reality.
We hope to help make your wedding experience one to remember for a lifetime.