Overview
Its bold design and pleasing tones celebrates the Arts & Crafts movement.
This wind chime is tuned using the Golden Ratio, a ratio discovered by the Greeks and found throughout nature. The Arts & Crafts movement of the early 20th century placed emphasis on simplicity, quality, function and harmony with nature. These themes were incorporated into the design of everyday objects – homes, furniture and decorative arts. This delightful-sounding wind chime brings enjoyment to the simple things of everyday life.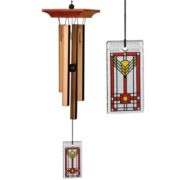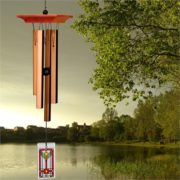 This chime carries a lifetime tuning guarantee.
This chime is designed to hang from a string loop, rather than an o-ring.
Dimensions: 21 in. Overall Length
Materials: Cherry finish ash wood, 4 square bronze aluminum tubes, glass windcatcher.