Adagio Chime – Spanish Garden
Overview
Tuned to the notes of Concierto de Aranjuez by Spanish composer Rodrigo.
This chime is tuned to the opening minor chord of the adagio movement from the Concierto de Aranjuez by Joaquín Rodrigo, one of the most significant Spanish composers of the twentieth century. This beautiful guitar concerto is best described by Rodrigo as encapsulating "the fragrance of magnolias, the singing of birds, and the gushing of fountains." The concerto transports the listener to another place and time through the suggestion of these natural sounds. Hang this chime in your garden and let its mellow sound transport you to a state of total relaxation!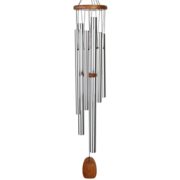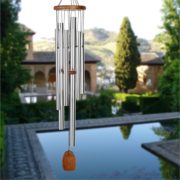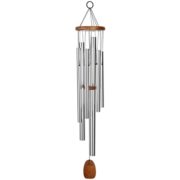 This chime carries a lifetime tuning guarantee.
Dimensions: 33 in Overall Length
Materials: Teak finish ash wood, 6 silver aluminum tubes.